Born in Sweden but adopted by America, she is the consummate entertainer. One of the world's most glamorous and versatile superstars, she has twice been nominated for an Academy Award, won five Golden Globe Awards, and received five Emmy nominations. She draws sell-out crowds in Las Vegas, Atlantic City and Radio City Music Hall and is a three-time winner of the "Female Star of the Year" award given by the United Motion Picture Association.
Ann-Margret's recordings for Art Greenhaw Records: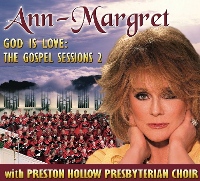 ANN-MARGRET with PRESTON HOLLOW PRESBYTERIAN CHOIR: GOD IS LOVE: THE GOSPEL SESSIONS 2....$14.99
Ann-Margret joins Dallas, Texas' Preston Hollow Presbyterian Mass Choir for a music album that's been over a year in the making and celebrates Ann-Margret's 10 years on Grammy Award-Winning Greenhaw Records.
The new album, GOD IS LOVE: THE GOSPEL SESSIONS 2, stars the passionate and emotional voice and style of Ann-Margret with one of the nation's award-winning, large ensemble choruses with pipe organ, pianos, violin and bass. The music is an adventure in various choral styles including sacred, classical crossover, traditional gospel and contemporary gospel.
From "Operator" to "Battle Hymn of the Republic", Ann-Margret and Choir alternatingly rock then soothe --with each selection inspiring in a sacred-gospel songbook of classics ranging from music by Martin Luther to pop chart hits.
GOD IS LOVE: THE GOSPEL SESSIONS 2 is produced by Art Greenhaw, and the Preston Hollow Presbyterian Choir is under the direction of Terry Price.
Buy it here!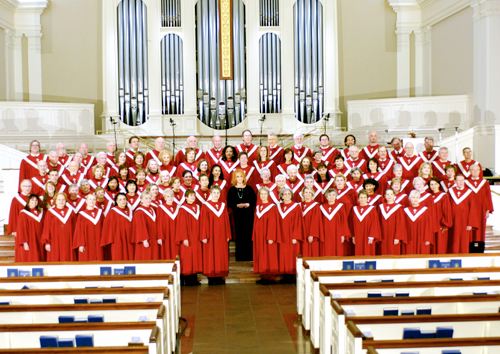 For a fabulous follow-up to her Grammy and Dove Nominated album GOD IS LOVE, superstar Ann-Margret sings with a Texas massed choir and records her latest spiritual album, GOD IS LOVE: THE GOSPEL SESSIONS 2, "live" in a full sanctuary setting complete with pipe organ. Here are rare, newly-discovered images of the historic recording session in progress.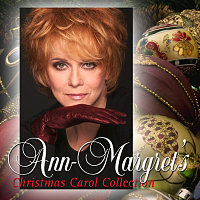 Ann-Margret's Christmas Carol Collection....$12.99
How does the woman do it? Ann-Margret turned 64 this year, and I swear that she still possesses more fired-up sex appeal and stylish glamour in her little pinky than Britney Spears has in her entire carcass. Wow. The star of "Bye Bye Birdie," "Viva Las Vegas" and "Tommy," Ann-Margret has the patented purr, the delightfully kittenish intonation, the verve, the everything that a legendary icon of her status should have.
Ann-Margret's Christmas Carol Collection is exactly what a fan would hope for--and even better than one might expect. After all these years, Ann-Margret's voice remains sweetly seductive and remarkably intact. She exudes satin with a hint of huskiness on eleven holiday favorites and one "Bonus Song" ("Jesus Loves Me"). The Jordanaires (www.jordanaires.com), the world-famous "doowop" group that celebrated its 50th anniversary in 2000, provides impressive back-up vocal support on four tracks. The band's accompaniment provides just the right touch--smooth, very professional, and not too intrusive. The mood is playful, yet sophisticated, throughout; the tempo is often luxuriously languid; and there is an occasional country kick.
This delightful album opens with Ann-Margret's gentle, yet sultry, interpretation of "The Christmas Song." Soooo sweet! She really ramps up the energy on "Jingle Bells," an upbeat treatment that had me swinging in my chair. Perhaps my favorite track is "I'll Be Home for Christmas," which vividly showcases Ann-Margret's magnificent strengths. For the most part, these arrangements are tasteful and traditional, in a jazzy sort of way. There are, however, occasional surprises to keep the project bubbling; for example, playful orchestration pumps a little surfer excitement into "God Rest Ye Merry Gentlemen." The Jordanaires are in especially fine form on "Go Tell It on the Mountain," providing rhythmic harmonies that electrify the well-known gospel tune.
For her legions of loyal fans, buying Ann-Margret's Christmas Carol Collection is a no-brainer. And for those who are somehow not familiar with the amazing A-M, consider making this classy assortment of Christmas carols your very own this holiday season. You won't be sorry!
--Carol Swanson (Reviewed in 2005)
Buy it here!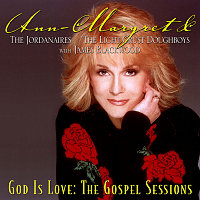 GOD IS LOVE: THE GOSPEL SESSIONS....$12.99
Grammy Award Nominated. Ann-Margret, The Jordanaires, The Light Crust Doughboys... with James Blackwood
The compelling voice, personality, and mystique of superstar Ann-Margret is showcased on gospel and inspirational songs in this, Ann-Margret's first-ever gospel music album. Her celebrated singing style is blended with the top gospel music interpreters in their field, The Jordanaires, The Light Crust Doughboys, and James Blackwood, resulting in an incredibly moving and dynamic sound featuring soaring gospel quartet harmonies and sensational country, rockabilly, and folk music instrumentation.
Art produces his favorite actress, female vocalist, and dancer — ANN-MARGRET— in her first-ever gospel/inspirational album! Features Steel Guitar Hall of Famer Tom Brumley on cuts 3 & 5.
"We songwriters spend our entire lives questing for that ideal singer to impart our messages in music. I found that ideal singer in the delightful, emotional, soulful, and romantic voice and style of Ann-Margret, and I wrote many of these songs especially for her... A revelation awaits you in these songs and Ann-Margret's, The Jordanaires', The Light Crust Doughboys', and James Blackwood's performances..."
— Art Greenhaw, Album Producer and Artist
Buy it here!
© 2018-2019