Grammy Award-Winning musician and producer Art Greenhaw, a sixth generation Texan, was born in Dallas. As a child, Art was part of the very first group of students admitted by audition to Southern Methodist University's newly-created Piano Preparatory Department, and was eventually taught by flamboyant, master concert pianist and visual artist Lucien Leinfelder. From family nurtured musical and artistic beginnings by homemaker mother Patricia and pro musician, educator and entrepreneur father Frank, Art's love of recording has resulted in Grammy Awards and multiple Grammy Nominations on his label, Greenhaw Records. In his performing and touring career, Art leads the quintessential Texas band and one of the world's top historical bands, The Light Crust Doughboys. In the field of motion pictures, Art produced and arranged the music for Hollywood Film Awards Best Documentary Nominee LUGOSI: HOLLYWOOD'S DRACULA and several other music videos and documentaries.
Educated via the Texas Public Schools when the system was the standard of the world, Art graduated with highest honors and received the six Texas county-top student award, the T.A.C.T. (Teenage Citizenship Tribute) Award presented by the Dallas Morning News and the Zale Corporation. Art worked throughout school and college in the family business, McWhorter-Greenhaw, an iconic enterprise in Texas history recently honored with a State of Texas Historical Marker. Also during his early years, Art managed and led pop musical combos for a wide range of famous clients including the family of rock legend Steve Miller, Neiman Marcus, Sanger Harris, Dallas' Temple Emanu-El and many Christian churches of all denominations. Art also during this period acted in major productions at the Dallas Theater Center, co-starring and appearing with Preston Jones, Mary Sue Jones, Ryland Merkey, Joan Prather, Synthia Rogers and many others.
Art graduated with a political science major from Southern Methodist University, and he continued business studies at the University of Notre Dame and graduate business studies at Amberton University. In civic work, Art has been chairman of the Planning and Zoning Commission, City of Mesquite, and has served on many other boards and commissions including the White House Conference on Small Business. He was awarded 2 City "Days" named for his record label and his band by proclamation of the City of Mesquite for achievements in music and business. Art was music director/pianist/guitarist during the glory days of the Mesquite Opry and appreciates the "honing of his playing chops" that this venue afforded him through hundreds and hundreds of performances. Today, Art is grateful for the hundreds of arts organizations throughout Texas who have brought The Light Crust Doughboys to communities small and large for stage shows, symphony collaborations, dance collaborations, concerts and school performances.
In addition to the roots music for which The Light Crust Doughboys are
famous, Art found that by producing and arranging unusual and creative
concept albums, he could create a buzz for his little label, Greenhaw
Records. His artistic vision has brought him and his music in
collaboration with the world's greatest musicians and vocalists
including Ann-Margret, The Ventures, Engelbert Humperdinck, James
Blackwood, The Jordanaires, Larry Ford, Big John Hall, Trini Lopez, The
Blackwood Brothers, Nokie Edwards, Tom Brumley, Larry "T-Byrd" Gordon,
the SMU Mustang Band, the Salty Dogs and, of course, The Light Crust
Doughboys and many others.
Art's own vocals, guitar, bass, piano and keyboard playing continue to
make their contributions to Greenhaw Records' success of today. His
original songs-compositions such as "Gospel Woman", "Always Hear the
Harmony", "Our Wedding Song", "The Builder's Song", "Sending Me You",
"Lugosi Hollywood's Dracula", "Child of the Night", "The High Road", and
many more have played an important part in the artistic impact of
Greenhaw Records' Grammy Winning and Grammy Nominated albums. Label
founder-producer-arranger-musician Art Greenhaw has charted and
continues to chart new courses in gospel, surf rock, instrumental rock,
rockabilly, western swing, blues, traditional pop and world/Indian
music.
Art's motto: "... A piano and guitar in every home!"
Special thanks to Frank and Pat who first believed, ... to James Blackwood who later
believed, ... to Marvin "Smokey" Montgomery who nurtured, ... and to The
Light Crust Doughboys past and present for pressing on...
• 2003 Grammy Award Winner
• GRAMMY NOMINATIONS the past 8-out-of-9 years (1998, 1999, 2001, 2002, 2003, 2004, 2005 and 2006) for "Best Southern, Country, or Bluegrass Gospel Album of The Year"...Top 5 in the world in this field
• Producer and artist with The Ventures of the 2007- released EMI Japan
album, "ROCKY!" by THE VENTURES
• 2007 Will Rogers Award Winner, Western Swing Group or Duo of the Year, Academy of Western Artists
• Designated National Endowment of the Arts "American Masterpieces Touring Artists" for 2008: 1 of 12 outstanding Texas artists chosen  from the current Texas Commission on the Arts Touring Artists and Companies Roster
• 2006 Inductee (with The Light Crust Doughboys), Texas Radio Hall of Fame
• Designee (with The Light Crust Doughboys) of The Light Crust Doughboys Hall of Fame & Museum located in Quitman, Texas
• 2003 Inductee, Texas Cowboy Hall of Fame
• Dove Nominations in 1999 and 2002 for Best Southern or Country Gospel Album of the Year
• Official Music Ambassadors for The State of Texas, by proclamation of the 74th Texas Legislature in 1995
• Commendation from President Jimmy Carter in 1980 for achievements in business and music, presented to Art
• Commendation from The Texas Commission on the Arts in 1995 for achievements in music
• Named to the artists touring roster for the Texas Commission on the Arts in 1996
• Named "Family Business of the Year' in the "Family Values" category by Baylor University, presented to Art and family in 1995
• Marquis Who's Who In The World, Who's Who In America, Who's Who in Entertainment
• Rockabilly Hall of Fame, Art and Light Crust Doughboys inducted June, 2000
• Charter Inductee and Lifetime Member as "Western Swing Hero" by The Cowtown Society of Western Music, Inducted 1999
• "I, Mike Anderson, Mayor of The City of Mesquite, Texas, do hereby proclaim Monday, March 3, 2003, as ART GREENHAW and the ART GREENHAW RECORDS COMPANY Day in The City of Mesquite, and urge all citizens to join me in congratulating Art Greenhaw and the Art Greenhaw Records Company on their Grammy Award and for their many accomplishments in the music industry!"
Click Here to Read Additional Accolades for Art Greenhaw...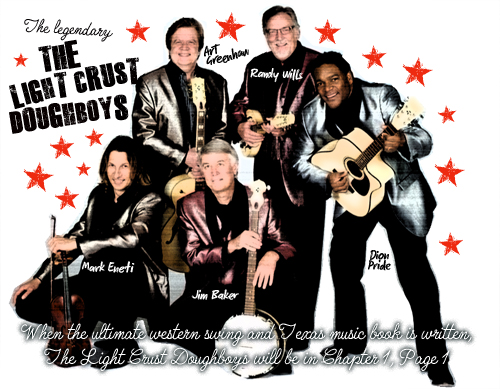 The Enduring Legend of The Light Crust Doughboys
The world's longest continually performing and recording country band
This is a story about a band and its members that reads like a classic American novel, and contains all the poignant elements that demand the eventual telling of the tale in some epoch feature film.

It is a story of music and politics, perseverance and commitment, talent and luck. This is a Texas story that all Texans will be proud to tell from generation to generation. It is a story that everyone can personally relate to, and it has a series of happy endings despite the many challenges that all successful organizations encounter on their journey to the top.

In 1931, a man who would become a Texas music legend named Bob Wills brought a band called The Light Crust Doughboys to the Burrus Mill Flour Company. It was the beginning of the great American Jazz age, and the glorious time of Benny Goodman, Tommy Dorsey, Glenn Miller and Gene Krupa. Bob Wills and his band, The Light Crust Doughboys, introduced the music genre of Texas Western Swing. Though the other great "big bands" disappeared along with the flour company, The Light Crust Doughboys are still performing, recording and "On The Air."

The band initially performed live on the high tech phenomenon of that generation – the radio – and sang commercials for the Burrus Mill Flour Company. W. Lee "Pappy" O'Daniel ran the company and the flour company owned the band. Although he fired Wills a couple of years after the tremendous initial success of the band, The Light Crust Doughboys continued performing for huge audiences around the country for decades. Despite O'Daniel's rise to political fame by becoming Governor and U.S. Senator from Texas, and the only politician who ever defeated Lyndon Johnson, O'Daniel believed he would best be remembered for starting The Light Crust Doughboys, one of the most popular bands in music history.

Some of the premier country and western musicians in the world have filled the ranks of the Doughboys, and hundreds of musicians claim to have played with the band when it came through their towns. Over the years, the band boasted its own touring buses and private planes. As with all stories in history, the sad times came with the passing of the once bright stars into their years of illness and ultimate deaths. But somehow, new members came along, and the band would reorganize itself into a cohesive crowd pleaser that just would not disappear. Each new generation of musicians had a cadre of even brighter stars to lead the upward way.

Enter music prodigy, Art Greenhaw, a Mesquite, Texas native and Texas Gospel Music Hall of Fame Inductee who began his musical calling at age 3. A master of several instruments with a vocal range that is the envy of his peers, Greenhaw started working professionally with the band in 1983. By 1993, he had become the youngest official member and co-bandleader of The Light Crust Doughboys. Upon the death of the greatest four-string banjo player in history, Smokey Montgomery, Greenhaw became the bandleader. In 2003, he produced and won the Grammy Award for "Best Southern, Country or Bluegrass Gospel Album of the Year" for the album WE CALLED HIM MR. GOSPEL MUSIC: THE JAMES BLACKWOOD TRIBUTE ALBUM. This album featured The Light Crust Doughboys, the Jordanaires and Larry Ford. 8 Grammy Nominations in 8 different years are part of Art's and The Light Crust Doughboys' recording history.

Led by Grammy Award-Winning musician and producer Art Greenhaw on piano, bass, guitar and vocals, The Light Crust Doughboys in various combinations include such virtuoso instrumentalists and singers as Texas Western Swing Hall of Famer Jim Baker on violin, banjo and vocals; Randy Wills (5th generation descendant of Bob) on keyboards and bass; Marek Eneti on electric violin; Dion Pride on guitar and keyboards. A Light Crust Doughboy special guest artist, Kristyn Harris, is frequently added to the major stage shows. Kristyn is a world-class guitarist and singer and has received the Star of the Year and Vocalist of the Year awards from the top Western societies of the USA including the Academy of Western Artists/Will Rogers Award. The Light Crust Doughboys have played prestigious festivals throughout the United States, have toured Austria, and make frequent television appearances. Current Light Crust Doughboys have years of combined experience playing in The Light Crust Doughboys band. The Light Crust Doughboys were named The State of Texas' Official Music Ambassadors by the 74th Texas Legislature, are Texas Commission on the Arts' official touring artists, and are inductees in the Texas Cowboy, Texas Western Swing, Rockabilly, Texas Music, and Cowtown Society of Western Music Halls of Fame. In every personal appearance by The Light Crust Doughboys, the band pays tribute to its legacy by honoring the musical contributions of Bob Wills, Milton Brown, and especially, Marvin "Smokey" Montgomery, a Light Crust Doughboy from 1935 until his passing in 2001.

In 2012, Dion Pride became the first African American "Doughboy." Another first in a family heritage that produced the most famous African American country music pioneer, Dion's father - Charley Pride. Greenhaw selected the young Pride for his extraordinary mastery of guitars, keyboards and vocals, and Pride's electrifying stage presence. Dion immediately captivated the hearts of large crowds of Doughboy fans.

In 2013, classically trained violin virtuoso, Marek Eneti, surprised the world by joining The Light Crust Doughboys. His handsome Eastern European looks, and magnificent showmanship, included electric lighted violins and the ability to embrace Western Swing music with an immediate proficiency never seen in the annals of country music before this astonishing alliance!

What makes this a true American Dream story is that Greenhaw Records is a small independent label succeeding without the financial marketing power of the major labels from Nashville and Los Angeles and New York. Though the industry titans said it couldn't be done, Greenhaw's knack for collaboration and outside-the-box concepts have jettisoned The Light Crust Doughboys fame to new heights year after year.

Entire books have been written about The Light Crust Doughboys who appear on the Texas Commission on the Arts/Texas Touring Roster, and there are many exciting chapters yet to be told. If you would like to become a part of the history of Texas music, you are invited to book the band for a show at your school or special event in your town.
To book The Light Crust Doughboys for performances for all occasions contact Larry D. Carlson, Manager:
25 Highland Park Village, Suite 100-288
Dallas, TX 75205-2789
214-739-2664
Cell: 214-704-6829
E-mail: doughboycarlson@gmail.com
lightcrustdoughboys.org
A Brief History of The Greenhaw Family Music and Mercantile Business - 1890 to the Present
With special thanks to historians and researchers Frances James, Charlene Orr, Horace Flatt, Charles Powers and David Brodsky.
Holley-McWhorter-Greenhaw Family
Original Town of Mesquite
105 S. Broad St.
Mesquite, Texas
I. Context
Family members have held true to the entrepreneurial spirit of Nathaniel A. Holley by keeping a business operating in the Holley-McWhorter-Greenhaw building at 105 S. Broad St. in downtown Mesquite, Texas. Holley, a significant figure in the growth of the farming community, began this long line of successful businesses after purchasing a lot and planning his first venture.
As the family grew and the operations changed, Holley's dream of serving the community continued through the years. This marker application is written as a tribute to this family's contributions in the history of Mesquite.
II. Overview
For many years the downtown square in Mesquite was the hub of activity for in-town residents and near-by farmers who needed groceries, hardware and other merchandise.
Tennessee native Nathaniel A. Holley (1861-1947) owned a 40-acre sandy-soil farm south of Mesquite near what is now Balch Springs in Dallas County and raised sugar cane, vegetables and orchard fruits. Holley arrived in the Mesquite area in 1884 with $15.30 in his pocket. 1
After a year, Holley returned to Tennessee to care for his widowed mother, but returned to Mesquite in 1886. He began planning to open a grocery store to have supplies for the residents and supplements for the farmers. 2
His plans were delayed, however. Holley's wife passed away in 1888 and his first-born son succumbed to spotted fever in 18913 after he had he purchased Lot 15, Block 4 of the original town plat a year earlier. Lot 15, Block 4 is still part of the current McWhorter-Greenhaw enterprises and building 118 years later. 4
However, Holley opened his first actual store in 1903 with stock hauled from Dallas in two loaded wagons and one buggy. Such a successful businessman, Holley either relocated or expanded emporiums five more times at various locations in Mesquite until 1932. By that year, The Texas Mesquiter (now The Mesquite News) reported, "That of all mercantile firms, Holley's can lay claim to being the oldest firm in Mesquite!" 5
By the time a World War I- era family photograph published in A Stake in the Prairie depicts the N.A. Holley and Sons store6, Holley had married his second wife, Adell Humphries in 1891, and had had four children – first-born Elsie in 1892, son Raymond in 1894, Anson in 1896 and daughter Eula in 190171, who, according to family lore, was the "apple of her father's eye." 8
Descendents of Holley continued to play a large role in the development of Mesquite. Both Raymond and Anson served in the United States Army during World War 1. They returned from France in 1919 and stated, according to family, that they were never going to leave Mesquite again. They did not, nor did they marry. While helping in the family business the brothers donated the first large city park with a small lake in Mesquite (City Lake Park).9
Holley himself was elected Mesquite Alderman (Councilman) in 1918.10 N. A. Holley served as Mesquite I. S. D. Board of Education member for 6 School Year Terms, 1914-15; 1919-20; 1923-24; 1924-25; 1925-26, 1926-27. 11
Youngest daughter of Nathaniel and Adell Holley, Eula, eloped with Ferd Arthur McWhorter in 1923; they were married in Fort Worth.12 Eula was afraid to tell her father but did let her mother know. It was not long, however, until McWhorter, a Kaufman County merchant, was welcomed in to the Holley family business.13
McWhorter, sensing the needs of the farming community, borrowed $500 in 1943 and bought two additional buildings, now at the 105 S. Broad Street location on the west side of the square and expanded the family business, now named McWhorter's.14 His vision was to create a retail operation that would include a variety of merchandise in the hardware and farm products area. In the beginning he sold feed and seed for the farms and even baby chicks.15
Throughout the 1940s, McWhorter's grew to include hardware, furniture and appliances. Ferd Arthur McWhorter served Mesquite Independent School District as a member of the Board of Education for 11 School Year Terms, 1933-1944. 16 During this period of change and growth which saw the climax and end of the Great Depression through the World War II years, district pupil enrollment grew by 67%.17 McWhorter's significance was such that the 5th school in the District named for a person was named for McWhorter in 1959. 18 McWhorter donated the famous landmark window/front of First Methodist Church of Mesquite's exterior, the massive "Come Unto Me" stained glass above the building's entrance, and he also donated the McWhorter Carillon Bells, the first such carillon bells in Mesquite and fashioned after the Washington Cathedral Carillons.19
The Holley family business expanded again when Ferd Arthur and Eula Holley McWhorter's only child, Patricia, a 1947 Southern Methodist University (SMU) graduate, married musician and educator Frank W. Greenhaw in 1949. Greenhaw, himself an SMU graduate with a Bachelor's Degree in Music, was hired by the Mesquite Independent School District as the choral and band director. In 1951, Greenhaw officially joined his father-in-law in the business and it became McWhorter-Greenhaw, which is what it is known as today.20 Frank W. Greenhaw served as Mesquite I. S. D. Board of Education member for 9 School Year Terms, 1952-1961. He served 7 terms as Board President, the second-longest tenure of Board President service in Mesquite school history.21 During his elected service, district pupil enrollment grew 500.17%.22
Frank W. Greenhaw was director of music for First Methodist Church of Mesquite for 38 years, the longest-tenured music director in the church's history.23 Much of his church music work took place in the McWhorter-Greenhaw store location, and his office of church music director was also located in the McWhorter-Greenhaw store.24 Greenhaw served as general chairman of the biggest religious event in the history of Mesquite, the Billy Graham Greater Mesquite Christian Crusade of 1966.25
After Greenhaw's service as school trustee was finished, he immediately saw a need and began one of the region's first monthly rental trial programs of musical instruments through the McWhorter-Greenhaw business.26
In the early 1960s, a large porcelain-on-steel sign which was to become a landmark identifier of the square and central business district was designed by Greenhaw and erected on the building. Hand-blown neon spells out "McWhorter, Greenhaw" and underneath spells "Hardware, Furniture, Appliances, Sporting Goods".27
The business continued to thrive and outlived all its downtown contemporaries as large national stores began building in the Mesquite area. In the 1970s, McWhorter-Greenhaw was the oldest business on the square.28 Holley's original vision of serving the needs of the community did not change over the years, however, as McWhorter-Greenhaw changed with the times.
III. Historical/Cultural Significance
As stated above, McWhorter-Greenhaw evolved with the demands of the times. Although structures around the square have changed – the small banks and locally owned businesses are gone that were identifiable on early Sanborn Insurance maps29 – one business has continued the tradition of merchandise needs of the Mesquite community.
As McWhorter-Greenhaw sold hardware, furniture, appliances, sporting goods, and even musical instruments to the community, the family also continued to make its mark on the history of Mesquite. Frank Greenhaw was honored to be elected president of the National Retail Hardware Association, which is a large and prestigious national position.30 Greenhaw and wife Patricia's son, Art, became a fourth generation company officer of the Holley-McWhorter-Greenhaw enterprises through his selling of all business lines of merchandise and in particular, musical instruments, from the location.
Art Greenhaw, owner and leader of Texas' original western swing band and State of Texas Official Music Ambassadors, the Light Crust Doughboys31, established exhibits in the building dedicated to the band. Also an SMU graduate, Art won the Grammy Award in 2003 for Best Southern, Country or Bluegrass Gospel Album of the Year32, and as of this writing is an eight-time Grammy Award nominee.
As one of Mesquite's earliest and most successful business families, the Holley-McWhorter-Greenhaw generations have been to-date recognized through the naming of Holley Park Street in Mesquite33, a Mesquite elementary school34 and park named after Ferd A. McWhorter35, and Baylor University's Family Business of the Year "Family Values Award"36 for McWhorter-Greenhaw. Frank and Art continue to bring recognition to the family and the community through their music and through Art's leadership as Mesquite's first Grammy Award-winning producer and artist.
Footnotes
1 The Texas Mesquiter Volume L, June 10, 1932. This was a complete Section devoted to N. A. Holley and Sons
2 Ibid.
3 Ibid.
4 This 19th century lot, Block 4 Lot 15, now a part of McWhorter-Greenhaw at 105 S. Broad St. in the original town of Mesquite, was first purchased by Nathaniel A. Holley in 1890 according to historian Max McCullough and deed records. Current 2007 Dallas County Central Appraisal District information shows owners Pat (Patricia) Greenhaw and Frank Greenhaw. See also, Letter from Max McCullough to Mrs. Frank Greenhaw, dated July 19, 1987, p. 3.
5 The Texas Mesquiter Volume L, June 10, 1932. This was a complete Section devoted to N. A. Holley and Sons.
6 A Stake in the Prairie is a book produced by the Mesquite Historical Committee published in 1984, page 81. This book has many original photographs loaned to the committee by the descendants of original families. It was printed by Taylor Publishing Company, Dallas, Texas.
7 Nathaniel A. Holley Family Bible, collection of Patricia Greenhaw.
8 Recollection of Mrs. Frank Greenhaw to Art Greenhaw.
9 A Stake in the Prairie, p. 179
10 Ibid., p. 243.
11 Statistical History, various compilers, Mesquite Independent School District, 1977, pp. 35-36.
12 Original marriage certificate, private collection of Art Greenhaw.
13 Mesquite Reflections: School Names, Amer. Assoc of Univ. Women, Mesquite Branch, p. 79.
14 In 1943, business news of the day announced that Ferd Arthur McWhorter had purchased two buildings on the west side of the square to enlarge the McWhorter's store. A Stake in the Prairie, p. 174.
15 Ibid.
16 A Statistical History, pp. 36-37.
17 Ibid., p. 23.
18 A Stake in the Prairie, p. 247.
19 Mesquite Reflections: School Names, p. 80.
20 In 1943, business news of the day announced that Ferd Arthur McWhorter had purchased two buildings on the west side of the square to enlarge the McWhorter's store. A Stake in the Prairie, p. 174.
21 A Statistical History, pp. 38-39.
22 Ibid. p. 24.
23 Records, Official Board, First Methodist Church, Mesquite, Texas, 1956-1994.
24 McWhorter-Greenhaw company records, 1956-1994, private collection of Art Greenhaw.
25 A Stake in the Prairie, p. 217; and official Crusade publicity materials. Private collection of Art Greenhaw.
26 Official records and invoices, McWhorter-Greenhaw, 1961-1997, private collection of Art Greenhaw.
27 Landmark sign erected in 1964. Lease, Maintenance, and Purchase Agreement between Federal Sign Company of Texas and McWhorter-Greenhaw dated August 31, 1964. Private papers of Art Greenhaw.
28 A Stake in the Prairie, p. 174.
29 Sanborn's Map for the Original Town of Mesquite dated 1926.
30 Official board notes, National Retail Hardware Association, 1989-1991, private collection of Art Greenhaw.
31 Corporate charter and d/b/a of Art Greenhaw, private papers of Art Greenhaw.
32 Official Grammy Award winners: www.grammy.com.
33 Current city map of Mesquite, Texas.
34 Official Mesquite Independent School District: www.mesquiteisd.org.
35 Mesquite Reflections: School Names, p. 80.
36 Trophy, Baylor University Family Business of the Year, ceremony programs, private collection of Art Greenhaw.
© 2018-2019